Michael Morrissey
THE SLOW DEATH OF THE BOOK
Alexandria casts a long shadow
The sword of flame and fire
Which burnt at Hitler's pyre
Turned tomes to ashes
Knowledge roiled as smoke
I have never burnt a book
Only given them away to friends.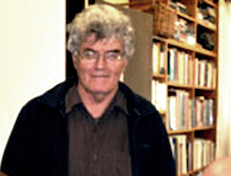 Michael Morrissey has published 24 books, 23 poetry collections and his stories are often anthologised. His latest poem will appear in This Twilight Menagerie, with cover design by Sophie Proctor.