Lisa Samuels

The archive bird

A little story hopped
up and announced its
fight path trajectory
hop hop prestidigitation
the book's in flux ready
to land oh wait
someone's torn thru
a hole in history
derelict unquiet
tying small parcels of
silence around the heads
of nearly uncountable
bobbing books they're
swelled in piles ready
to be burnt white heat
with a regal cut you know
some all noble walking
toward destruction with
their pagey wings
they're like waiting to see
(their words are mouths
and ears and careful
watching) who might
turn on the wind
machine so they can fly
somewhere taut
readable trees grow
abundant what it means
for culture to remake
itself continually means we
don't know what we need
until we see it and
what we have is not always
what we need and what
we need is not always there
and needs to be
a bunch of needs etched on
the archive flag
flut flut among the books
with delicate wings
they keep the little story
warm sharp shiny pugilistic
moral company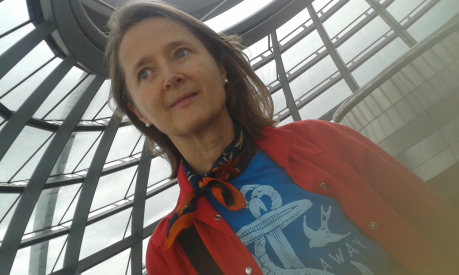 Lisa Samuels works with experimental writing, multi-modal art, and relational theory. Recent poetry books are meditations on heresy, The Long White Cloud of Unknowing (Chax 2019), and on lockdown, Breach (Boiler House 2021). She lives in Tāmaki Makaurau [Auckland].